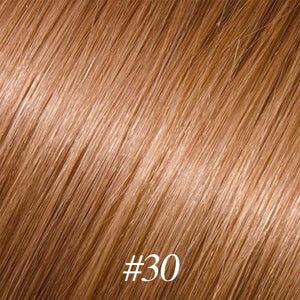 Recommended Order
Thin Hair: 2 packs (100 strands)
Short or Medium hair: 3 packs (150 strands)
Thick Hair: 3-4 packs (150-200 strands)
Hair Weight: 1g per strand. 50g per one package, 100-150 pieces for full head attachment.
Hair Colour

: #30 Copper Ash Brown

Hair Texture

: silky straight,would get a little wavy after washing or improper packaging.

Hair Quality:
100% real remy human hair, natural,silky and soft.
Can be curled, straightened, and restyled as your own hair.
Can be dyed, but only from light color to darker one, please take ONE piece for testing before dying all the hair.
Professional salon quality hair.
Easily and naturally blend with your hair.
Get beauty and confidence in seconds and no one will find your secret
Can last up to 6-12 months with proper care.

Social Media
If you are looking for a stylist,  the founder of Glam by Lexx specializes in Hair Extensions. If you would like to check out her Instagram, you can find it at @glambylexx_ and feel free to slide into her DM's if wanting to book an appointment.